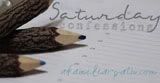 I love Easter but cannot seem to have a year with no mishaps! This year Allie Beth's dress did not come in and John and I had a 'not so good day' together. Good thing is, we have very generous friends that lend their children's clothes to us and me and John are over it. Best thing is.....none of that is the real reason for Easter and HIS grace is sufficient!

My son is now 4 years old. I cried. Several times.

My sweet, kind child that turned 4 is going through a mean streak and is being very difficult to be around. I'm confused and not liking it at all! Any suggestions?!!

The birthday boy's big day turned out nothing like I'd hoped. He was ill and so hard to deal with. I was heartbroken. Birthdays are supposed to be great days!

I threw away a lot of candy from Easter baskets b/c I was so tired of fighting my children and eating it myself.

I told John I was getting up at 5:00 a.m. to watch 'the wedding'. He laughed. He was right.

We all dug up potatoes today out of our neighbor's garden. I think I had more fun than the children. I love that!

My toenails are usually painted year-round. Right now they have no polish on them and are in desparate need of a pedicure.

We are having part of our deck covered. The first time I came home and saw it completed I cried. It was not what I had pictured. John and I have come up with a plan so now I'm feeling much better.

The saddest part of the above confession is that there are thousands of people right now that would love to have a house. Much less care about the insignificant details.

I feel like the picture below.

I got absolutely nothing 'accomplished' today. Therefore I have 5 loads of clothes piled in the laundry room and a sink full of dirty dishes.

This family went to Sonic tonight. John bought a bag of sonic ice for me! WoW! It's awesome!

My husband is laying beside me in bed jamming out to the Rocky song that's playing on TV. Hmmmmmm......
Good night guys!